Welcome to Wind River Tai Chi Chuan, internal martial arts for health & enlightenment, Tucson, Arizona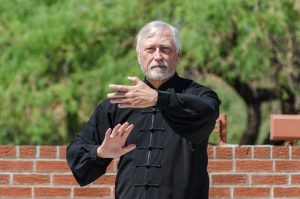 Tai Chi Chuan and Chinese Internal Martial Arts have been practiced for centuries to improve self-defense ability, health, strength and spiritual awareness.  Tai Chi practice has demonstrated benefits for easing arthritis pain, improving balance, and increasing flexibility in body and mind.
Our practice and teaching are rooted in the martial and healing arts taught by World Renowned Grandmaster Sam Tam. Master Tam is Jordan Misner's Sifu. Jordan has been studying with Sifu Tam since 2002.  A student of Chinese Martial Arts since 1992, Sifu Jordan has earned a reputation as a respected  skilled and knowledgeable teacher.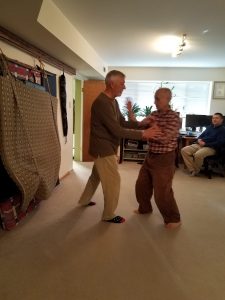 Our core practice is designed to cultivate Qi and Shen (spirit) through Zhan Zhuang (standing meditation), Qi Gong and Yang Tai Chi Chuan. Our traditional Yang Tai Chi Chuan form embraces Yin and Yang elements through mindful movement. Our standing meditation is an internal health and mindfulness practice as taught by Master Sam Tam.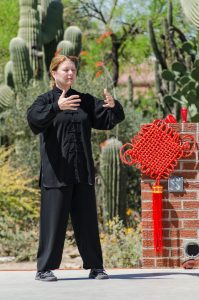 Our classes are ongoing and are designed to accommodate students at many levels of experience, as well as beginning students without previous experience. Visitors are welcome to participate and meet our students during a class, and new students are welcome to join in our core classes at any time.
Core classes are held weekly on Tuesday evenings from 6PM to 7:30PM,  and Saturday mornings from 9:30AM to 11:00AM.  
You will find us at the Tucson Chinese Cultural Center, 1288 W River Rd in Tucson, Arizona.
Contact us to let us know if you would like to join us or for more information.