Wind River Instructors – Tucson

Jordan Misner (Sifu) –
Jordan began studying Chinese martial arts in the early 1990s in Milwaukee, WI and continued his studies when he moved to Tucson in 1994. In 2004 during a visit to San Francisco he spent some time with a close friend and fellow martial arts enthusiast. Through his friend he discovered the potential power of Zhuang Zhan standing meditation. As a result of this discovery he sought out a deeper understanding and training in the Internal Martial Art of Yi Chuan. As a result of this search he found Grandmaster Sam Tam (Tam Maan Yin), one of the foremost Internal Martial Artists in North America. Master Tam is a highly sought after teacher and has students worldwide. Jordan has had the good fortune to become a close student and friend of Master Tam and currently serves on the Board for Master Tam's Internal Martial Arts for Health and Enlightenment Association.
 Jordan volunteers his time to Wind River Internal Martial Arts, a non-profit association formed to promote Master Tam's teachings in the Southwest. Sifu Jordan teaches Wind River classes held each week at the Tucson Chinese Cultural Center.
Jason Hurford (Dai Si Hing)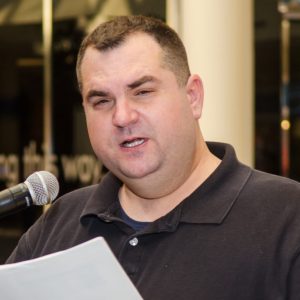 Jason has been learning from Sifu Jordan since the beginning of the Wind River school and he has been working closely with Sifu in all aspects of teaching and running the many activities of Wind River IMA. Jason has also had the opportunity to attend and learn privately with Master Tam over many years. He assists in teaching Wind River classes at the Tucson Chinese Cultural Center and takes over the role of lead instructor when Sifu Jordan is unable to attend.
Jared Michel (Si Hing)

Jared began his study of Tai Chi Chuan and  Chinese martial arts with Sifu Jordan Misner, a senior student of Master Sam Tam.  Sifu Misner arranged for Jared to attend many private training sessions with himself and Master Tam, and has  been an assistant instructor with Jordan for many years.  For more information about Jared's Saturday Class at the Movement Shala please Contact Us.
Wind River Instructors – PHOENIX

Anthony Marquette (Si Hing)
Tony began studying with Tai Chi Master Waysun Liao at the Tai Chi Tao Center in Oak Park, IL in 1987.  Master Liao allowed him to teach Traditional Temple style Tai Chi in the Phoenix area starting in 1995. He taught this form until he started training in Master Sam Tam's Tai Chi / Internal Martial arts style with Sifu Jordan Misner of Wind River Tai Chi of Tucson in 2007.  Our Yang form is very old and may predate many other Yang style forms containing elements of both fast and slow movements. He teaches Master Sam Tam's traditional method of Zhan Zhuang standing meditation, and Qi Gong. and has been teaching Master Sam Tam's Internal Martial Arts system in the Phoenix area since 2011. For more information about Tony's Phoenix Class please Contact Us.